Now that I've found a body shop, I worked to remove the parts that shouldn't be there. The excess trim pieces, the convertible top connectors, the chrome badges around the body.
While messing with some of the interior, something fell out from behind the glove box. I asked around in some auto forums, and it appears this was the original owner of the car from the dealership. These plates were used in the service department with a machine similar to an old-fashioned credit card device. The owners log book would be stamped to show when work was done.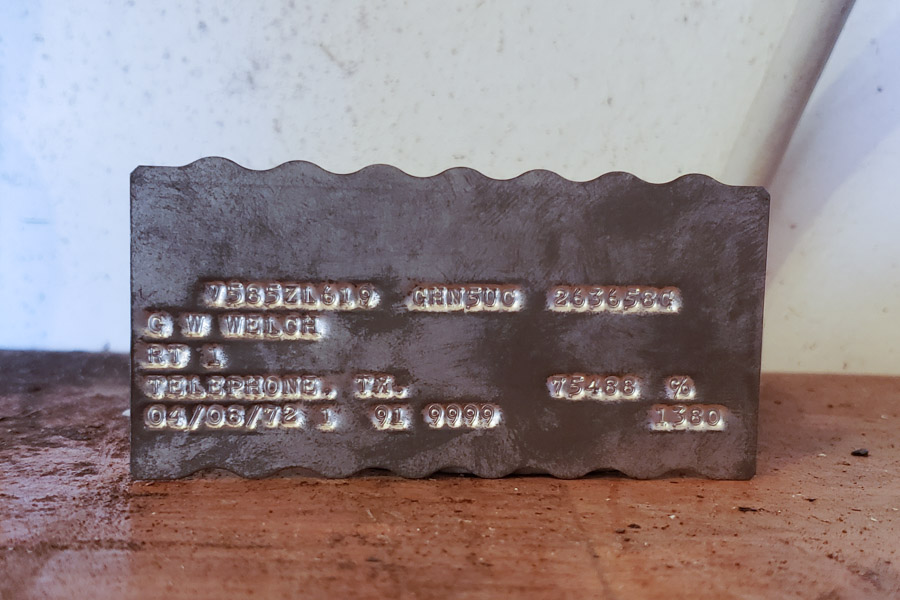 Original owners' service plate
My sisters' father-in-law bought it around 1978. I thought the car was originally purchased in Florida, but apparently I was wrong. Telephone, TX, stamped on the plate, is about 2 hours drive northeast of Dallas. It appears to be a few houses, a post office, a couple churches, and not much else.
Here she is, the last afternoon together, as I've removed the last bits of trim. I realized the next day that I should've removed the riveted parts as well. The body shop owner said he would do that. I felt sad. We never took our kids to day-care, but I can imagine that's the feeling I might've had, dropping them off that first day.