My Daughter's Junior Prom
It's 2020 and everything sucks. My daughter didn't get to attend her Junior Prom because of COVID. But, that didn't stop us from getting some photos anyway.
This photo is the MGB after the photo shoot. About 2 miles (3 km) from home, the car started sputtering as I downshifted coming to the 4-way stop south of our home town. The engine died and I was stuck there. It was obvious to me that the carbs were flooded. Beau and her friend were in a second vehicle, so they drove on home, while I waited an hour for the carbs to dry out. At least 3 people I knew pulled up and either laughed at my misfortune or offered to help. When I got home that evening, I made a decision to start a project to fix up the MGB again.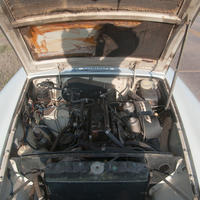 Click the #restoration tag, you'll see the progress that the MGB has made since this day.